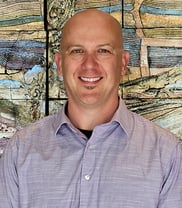 PRESS RELEASE: Cedar Rapids, IA, May 12, 2023 – Benchmark, Inc., one of the largest commercial and industrial roof and pavement consulting firms in the nation, has recently welcomed Aaron Horn as Chief Information Officer. Mr. Horn will be based at the company's corporate headquarters in Cedar Rapids, IA, and is responsible for ensuring that the organization's technology infrastructure and capabilities align with its overall business strategy and objectives.
Vince Ellison, Benchmark's COO, commented, "We are thrilled to welcome Aaron Horn as our new CIO. With his extensive experience in IT and leadership, we are confident that he will be a great addition to the Benchmark team. Aaron has that 'roll your sleeves up and help where needed' mentality which makes him a great cultural fit."
Horn's background includes leading IT in several different industries – ag manufacturing, healthcare software, chemical, and railroad, to name a few – as well as Executive Director for NewBoCo most recently.
"I'm excited for this new opportunity because it will utilize my strengths in IT Leadership, and I'm looking forward to helping Benchmark build on their already innovative technology. Benchmark has a great entrepreneurial culture and commitment to the community, which is really important to me," said Aaron.
Horn graduated from Iowa State University – Ivy College of Business with a BS in MIS & Entrepreneurship. Originally from Ames, Aaron now lives in Swisher, Iowa with wife Stephanie and their six kids where he is very involved in nonprofits. He serves on the Board of Directors for nonprofits Miracle Travel Works in Des Moines, Candlelighters NYC in New York City, Hawkeye Area Council - Boy Scouts of America, District 9EC Lions Club, NewBoCo, and Beat Cancer Today in Cedar Rapids.