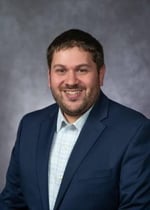 PRESS RELEASE: Cedar Rapids, IA, December 13,2022– Benchmark, Inc., one of the largest commercial and industrial roof and pavement consulting firms in the nation, has recently welcomed Matt Walz as Chief Financial Officer. Based at the company's corporate headquarters in Cedar Rapids, IA, Mr. Walz's main objective is to align Benchmark for continued financial profitability.
Vince Ellison, Benchmark's COO, commented, "We are delighted to welcome Matt to the Benchmark Team! Matt is a collaborative, hands-on financial leader who will play a key role as we continue to focus on growth and executing our long-term vision and strategies. His strong knowledge, business experience, and background in public accounting compliment Benchmark's existing accounting team very nicely."
Walz is a Certified Public Accountant who brings more than 16 years of public and private company financial experience within various industries. Prior to joining Benchmark Inc., Matt was the Controller at the Iowa Northern Railway Company where he successfully served as the primary finance advisor.
"I admire Benchmark's core values and accepting atmosphere. It is a privilege for me to join such a talented team of professionals who value long-standing relationships and their client's best interests. I am confident that together we will make a positive impact," said Matt.
Walz was born and raised in Tama, Iowa. He holds a B.B.A in Accounting, with Distinction, from the University of Iowa and is a member of the American Institute of Certified Public Accountants as well as the Iowa Society of Certified Public Accountants. Matt enjoys participating as a certified judge for the Iowa High School Speech Association. Walz and his family reside in Marion, Iowa..