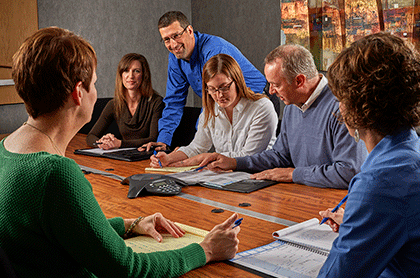 Think of Benchmark as an extension of your staff. Benchmark employees share their collective knowledge from a variety of professional and construction backgrounds to create solutions that not only meet your performance requirements but address your budget and long-term objectives.
In it for the long haul. We are committed to building long-lasting relationships and protecting the integrity of your roof and pavement assets.
Benchmark's staff includes more than 50 consultants. Our roof and pavement divisions are each headed up by a Professional Engineer.
The pavement consulting staff includes three Professional Engineers (PE), while the roof consulting staff includes three PEs, five Registered Roof Consultants (RRC), and 19 Registered Roof Observers (RRO). Both the RRC and RRO require verifiable levels of work experience and education, high ethical standards and a satisfactory score on the required exams. In addition, both require continuing education on an annual basis.