ROOF DESIGN & BID SERVICES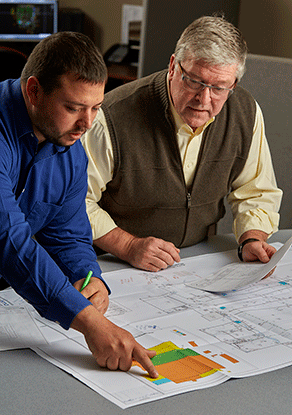 Cut through the clutter. Benchmark's knowledge and experience saves you time and helps you make the right decisions when considering roof systems and contractor choices. Design parameters should not be dictated based on relationships with manufacturers or contractors. We follow applicable building codes and insurance requirements; and consider facility specific design criteria to maximize the performance of your roof while being mindful of costs.
The Process. Benchmark completes a Design Review Summary (DRS) outlining key design criteria and roofing alternatives, including the merits, shortcomings and cost estimates for each. Benchmark will review each option with you to select the most appropriate option based on your specific situation. Comparable and competitive bids are then solicited from qualified, reputable contractors to give you the best possible roof system.
Design & Bid Services
Analyze roof design criteria and options
Develop detailed, site-specific plans and specifications
Prepare bid documents
Qualify roofing contractors
Conduct pre-bid meetings
Evaluate bids and recommend award of contract