CONSTRUCTION PHASE SERVICES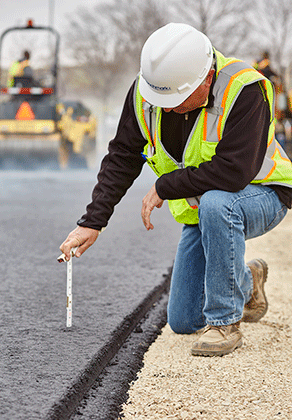 Project quality. Benchmark's experienced staff provides vigilant on-site construction quality assurance which saves you time, keeps you informed and eliminates worries. We closely monitor the installation process to ensure that the work is completed on time, within budget and on par with our high standards. Comprehensive documentation throughout the entire process provides an accurate record for future reference.
Pavement experience. Benchmark's experienced observers are well trained in asphalt and concrete practices, and quality assurance procedures. We monitor all phases of the construction process from subgrade preparation to pavement installation and project completion.
Construction Phase Services
Review contractor submittals
Conduct preconstruction meetings
Monitor pavement materials for conformance with specification
Perform construction quality assurance documented with daily reports and photos
Monitor traffic flow for safety
Provide project administration services
Conduct progress meetings
Perform final inspections
Provide project closeout documentation