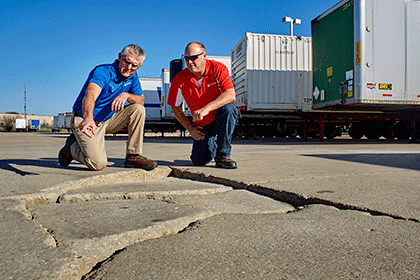 Keeping workers and property safe. You need to be aware of traffic flow and proper staging during any pavement project. Benchmark completes a safety inspection form for each audit and all safety issues are discussed with the contractor(s) and the client. These audits are instrumental in preventing unsafe practices and setting proper safety guidelines.
Commitment to safety. Benchmark has a safety committee that is responsible for keeping team members safe and reducing risk to clients and contractors. Our full-time safety director has attained OSHA Construction Out-Reach status and is certified to teach the 10- and 30-hour OSHA Construction course. He is also a member of the ASSE (American Society of Safety Engineers). All Benchmark consultants have completed the 10-hour OSHA Construction Safety and Health Course, American Red Cross First Aid, and CPR training.

Learn how to maximize the life of your pavement assets.
Request your FREE Pavement Asset Value Analysis today »
Pavement safety evaluation
General safety requirements
Traffic patterns
Hazardous materials
Housekeeping and material storage
Energized/electrical power lines
Powered trucks/lifts
Personal protective equipment (PPE)
Material handling