CAREERS IN ROOF AND PAVEMENT CONSULTING
Benchmark is a national leader in roof and pavement consulting services. We build lasting relationships with our clients and with each other.
Job opportunities
Contact us to learn more about job opportunities with Benchmark, Inc.
Benchmark seeks Ideal Team Players job specific qualifications, and values applicants who are Humble, Hungry, and People Smart: Ideal Team Player
Top 5 reasons to work with Benchmark
1. Reach the top of your field.
You can't get much higher than the roof. But if you want to work with the best in roof management, Benchmark is the place you want to be.
2. Hit the ground running.
If you have a hankering for hot-mix, you can learn a lot from the pavement experts at Benchmark. We take pavement seriously, just like you.
3. Great culture. And we're not talking opera.
We work hard and play hard at Benchmark. We recognize good work and know how to celebrate our milestones.
4. Make a difference in your community.
We care about our employees and our communities. When you work at Benchmark, you'll be given the time and encouragement to support causes that are important to you. Learn more about our community support »
5. Keep moving forward.
There are many opportunities for growth, training, mentoring and fun at Benchmark. We provide technical training, off-site retreats and educational support to keep you at the top of your game.
---
Employee Profiles
A "Benchmark Lifer"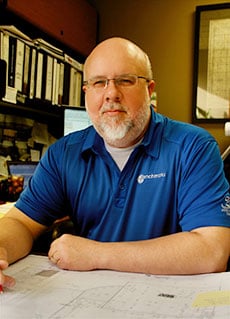 Around here, you might hear various people referred to as a "Benchmark lifer." What exactly is meant by this term? With our focus on loyalty, long-term relationships, and taking care of not only our clients, but also our Benchmark family, it's understandable that people tend to stick around for a long time – thus, earning the label "Benchmark Lifer!"
Tom Irvine, RRC, CDT, is one of these so-called "Benchmark Lifers." Tom joined the firm back in 1985, as an intern while he was still in high-school. He continued working for Benchmark throughout his college years excelling as a drafter and ultimately moving into roof consulting. Upon graduation, Tom became a full-time employee.
Tom is a student of the industry. He earned his Registered Roof Consultant Certification (RRC) in 1996, and went on to earn his Construction Documents Technologist (CDT) in 2010. Tom is a senior member of Benchmark's in-house technical committee and an active member of the Iowa Chapter of RCI, Inc., serving as Board Member 2011 – 2016, and President in 2013 – 2014.
Tom became a partner at Benchmark in 2012. From high school intern to Senior Consultant and Partner, Tom has demonstrated that hard work, commitment, and loyalty can result in an amazing career at Benchmark!
"Over the past 30 years I have enjoyed seeing Benchmark's growth and evolution, while never sacrificing our culture of quality and integrity. It is fulfilling to have developed so many relationships with clients, fellow employees, and suppliers, while collaborating with them in a wide variety of endeavors. Every day offers new challenges and opportunities – the essence of life at Benchmark."

A "Good Fit"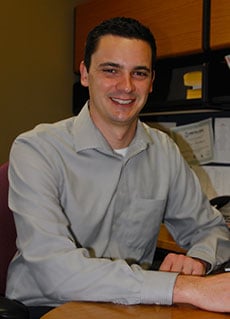 With the level of knowledge and expertise required to be an effective pavement or roof consultant, in addition to the extensive travel required to service our national accounts, Benchmark isn't for everyone. Finding the right individuals who "fit" the Benchmark culture can be a challenge.
Along came Andrew Reynolds. Prior to his junior year at Iowa State University, Andrew was seeking industry-related experience as he was pursuing his construction engineering degree. With an interest in learning more about the roofing industry and also being intrigued at the idea of being able to travel throughout the country, Andrew began his career at Benchmark. After spending the following two summers as a college intern, Andrew developed a strong sense for what it would take to have a successful career at Benchmark. From assisting with surveys to providing construction management services, Andrew capitalized on this opportunity to "dip his toe" in roof consulting.
Following his graduation from Iowa State University in 2012, Andrew became a full-time consultant. Andrew became a licensed Professional Engineer (P.E.) in December 2016.
Andrew credits his internship as an opportunity for both him and Benchmark to determine that he was a "good fit" within the team.
"Working at Benchmark has offered me a great opportunity to learn and grow since graduating from college. I have had the opportunity to travel the country and work on a variety of different projects and facilities. Every day seems to bring a new challenge that makes working at Benchmark exciting and fulfilling."
A True "People Person"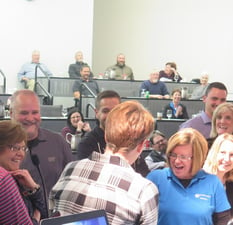 We're often asked, "What is the key to Benchmark's success?" Well, there are many, but without a doubt the single most important one is our focus on building and maintaining great relationships. It takes a lot of passion and a real "people person" to be able to do this successfully, and Shellie Kamaus fits the bill!
Shellie joined Benchmark after graduating from Wartburg College in Waverly, Iowa in 2001. She's literally "grown up" with Benchmark. Here, she gets to tap into her many unique gifts and talents. For example, she enjoys having close relationships with others, and she finds deep satisfaction in working hard with friends to achieve goals. Perfect for someone in an Account Manager role at Benchmark!
Shellie is also a life-long learner and a deep connector with a generous heart. She's a true testament to the fact that commitment, loyalty, and passion can result in a an amazing and satisfying career at Benchmark!
"I'm fortunate to have found Benchmark early on in my career, and I've been able to continually learn and grow along the way. I get to work in my "sweet spot" and with a great group of talented people who love to work hard, have fun, and win together!"