Benchmark Service: Construction Phase Services
Issue: The Contractor, who was not paying attention to survey markers, had excavated to an extreme depth in a small area of the project.
Solution: Stone aggregate totals in this small area were deducted from yield quantities because the depth exceeded design parameters.
Possible Impact: Quantities should be closely monitored as projects are built to ensure proper amounts are being used. In this case, they were in excess. Deduction of materials may be necessary to accurately track the proper usage of material and ensure that the client is getting what they paid for throughout the project.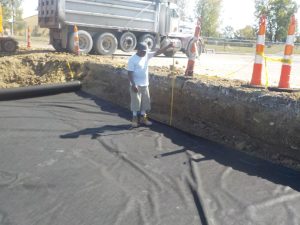 Excavation depth exceeded design and stone quantities were deducted.