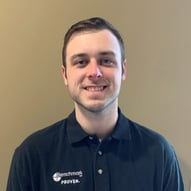 PRESS RELEASE: Cedar Rapids, IA, March 31, 2022 – Benchmark, Inc., one of the largest commercial and industrial roof and pavement consulting firms in the nation, has welcomed Jordan Stander to its Roofing Field Consultant team.
Based in Horseheads, NY, Jordan will be primarily responsible for construction phase services and quality control on roofing projects to ensure the roof systems are installed correctly, as specified.
Elise Schmidt, Benchmark, Inc. Operations Manager, commented, "Jordan's interpersonal and problem-solving skills along with his humble attitude and professional development goals align perfectly with our mission. We are delighted to have him on our team."
Stander comes to Benchmark with a bachelor's degree from Suny Brockport College and has a passion for the roofing industry.
"I am thrilled to be part of such an amazing and highly respected company as Benchmark, no company holds its core values as true as Benchmark does," said Stander. "I am very proud to be surrounded by such humble people who take their work above and beyond the normal standard by doing it the Benchmark way."