By Ron Harriman
President


It's 2019, which marks Benchmark's 25th anniversary since officially opening our doors in January 1994. We're proud to reach and celebrate this milestone. We will soon release a video commemorating the journey and sharing a glimpse into what life at Benchmark looks like today. In the meantime, I'd like to take this opportunity to look back on the many lessons we've learned and relationships we've built since our early days as a company.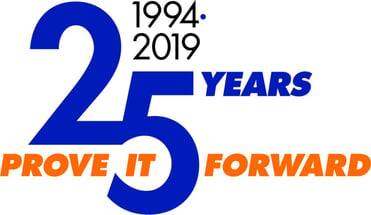 Gratitude
As I reflect on the past quarter century, I'm overwhelmed with gratitude for the people I've gotten to spend my days with and the work we've had the opportunity to do together. Not everyone is so lucky. I feel fortunate to have a seat on the Benchmark bus.
I've been to Haiti several times to take part in mission work. During my visits, I worked side by side with intelligent and industrious people; similar to the people I work with every day here at home at Benchmark. But my Haitian friends and my American friends live incredibly different lives simply because of where they were born and the opportunities they were afforded. This realization has taught me to appreciate each day throughout my career at Benchmark.
Our Roots
The management team at Benchmark has their roots in Taylor Associates, the consulting arm of a large roof contracting company in Cedar Rapids, Iowa. In 1983, Taylor Associates was established for the sole purpose of managing a massive roof replacement program for more than 100 Sears Roebuck stores located throughout the United States, including Alaska, Hawaii, and Puerto Rico. During our three years working with Sears, we learned how to do the kind of work we still do to this day: managing multi-facility programs and providing valuable counsel to our clients.
In those early days we managed construction, evaluated, and built thousands of roof systems in all 50 states and several foreign countries. We also made mistakes and learned some things about each other and our industry the hard way.
We are better today because of it.
Benchmark Begins
After ten years working under our parent organization, several Taylor Associates employees got together to discuss the future. Should we continue as Taylor Associates or could we better serve our clients as independent consultants without any perceived conflicts of interest?
We listened to our hearts and trusted our instincts. In January 1994, a group of eight Taylor Associates employees purchased the consultancy and established Benchmark, Inc., our own independent company. One of my recollections of that year-long process was recognizing that the company had only two real assets (beyond our mini vans): our clients and our people. As long as we kept our focus on those two important assets, success would find us.
Our long-time former president, Kent Mattison, never let us forget (and didn't mind overemphasizing) that the finances would take care of themselves as long as we took good care of both our clients and our people. He led by example.
We are better today because of it.
What Has Changed
In today's world, change is a constant. In 2004, Benchmark acquired Pavement Consulting, Inc. Today, pavement consulting comprises over 20 percent of our business and represents a significant growth opportunity. The current pavement team is by far the strongest and deepest it has ever been.
We've worked hard over the years to ensure Benchmark would not simply survive a succession in leadership, but thrive as a result. We've always talked about being a "Built To Last" company and now we're putting that idea to the test as we transition our leadership team and pursue our next stage of growth with the largest team of Benchmark employees in our history.
We have always been dedicated to Benchmark being owned by our own employees and leaders. Today, I am pleased to say that the ownership team is as strong as ever, in part because we now have four female owners. They add a diversity in perspective and business savvy that we feel our board needs in order to succeed.
Change is also inevitable when it comes to Information Technology and our SITEMAN® database. SITEMAN® houses clients' key facility infrastructure for their roofs and pavements. But over the years we've also added features to track their flooring and mechanical systems such as pumps, motors, pressure vessels, and a host of other systems per client request. Our clients keep throwing new challenges at us, and we keep stepping up to the plate.
We are better today because of it.
What Hasn't Changed
Our Mission Statement has remained untouched since our inception.
Benchmark, Inc., provides roof and pavement consulting services and experienced leadership to building owners in the effective management of their roofs and pavements.
Our commitment is to be recognized for:
Sound and valuable counsel
Exceptional responsiveness and dependability
Dedication to the client's best interests and needs
Our strong work ethic, high standards and integrity
Concern for the career enrichment and well-being of all associates
Kent used to say that if we are going to actually live this mission, "our average must be above average." The Benchmark Playbook includes three strategic anchors:
Technical Excellence – Our services must be rooted in providing our clients with sound and valuable counsel.
Client Focus – Get to know our clients' needs first and concentrate on meeting them.
Organizational Health – We seek to create an environment in which respect, communication, hard work and teamwork are valued and rewarded, and motivation is gained by personal contribution.
We have spent countless hours perfecting our Mission and Playbook and making sure every member of our team understands their role in reaching these goals.
We are better today because of it.
Our Future
We are working on three Wildly Important Goals (WIGs) to guide us into our next chapter as a company. The first WIG revolves around career enrichment, the second WIG stretches our innovation muscles as we work to develop a paperless roof and pavement survey method, and the third WIG involves the growth of our pavement division.
While we've always been goal driven, this is the first time we have used this particular system centered around three big ideas in order to focus our goal achievement efforts.
We are better today because of it.
Back to Gratitude
In the spirit of gratitude, let me add sincere thanks to our clients, many of whom have been with us for all or most of the past 25 years. You've continually challenged us to be our best.
Likewise, we want to thank the roofing manufacturers, pavement material suppliers, and many roofing and paving contractors we've worked with over the years. We greatly appreciate your efforts in helping us to meet our high standards of excellence.
Twenty-five years ago we were trying to decide on a name for our new company and drew a benchmark on the back of a placemat. A benchmark is a surveyor's mark used as a reference point for measurement and comparison. We wanted our business, our Benchmark, to be the reference point for excellence in our industry. It's hard to believe we've been in pursuit of that point for two and a half decades.
We are better today because of it.
With gratitude,

Ron Harriman, President